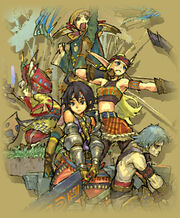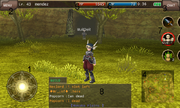 1. D-Pad Used to move around in Game.
2.) Menu multiple options view page.
3.) Chat Button used to initiate communication.
4.) Map used to guide you in the game
5.) Hit Points health in game.
6.) Mana Points used for skills.
7.) Shortcut Bars Place shortcuts of skills or items here.
8.) Chat Box Used to communicate with players and see damage done to monsters as well as Loot collected.